Cerita pasal polis yang buat rondaan kat dalam UTM ni (bukan pengawal UTM),tadi masa on the way nak ke Fakulti,berhenti kejap dekat gate belakang,berbual-bual dengan Pakcik Selamat ( pengawal UTM yang feymes ehe), beliau ni memang rajin becerita,memacam cerita kuar,ucap-ucap selamat hari raya etc. Tiba-tiba termasuk pulak pasal polis tipu ni,polis ni konon-konon pangkat inspektor,bawak perdana, menurut pakcik Selamat, polis pentipu ni memula buat-buat baik dengan siswi-siswi,then nanti mula lah nak pinjam-pinjam duit. Hari semalam kalau tak silap,polis pentipu ni tertangkap after pinjam duit seorang siswi ni,bukan sikit,tapi RM4000-5000, banyak gila tuh. Yang siswi ni pun mudah sangat pecaya siap nak bagik pinjam duit 5k apa smua.kalau 50 ke 500 ke ok la lagi kot.tapi still sayang jugaklah sebab duit,boleh buat shopping oke.Furthermore, kan dieorang belajar lagi,bukan dah bekerjaya (tatau la kalau die memang kaya,tak kesah duit 5000 kene pinjam tak pulang-pulang).So kepada siswi-siswi & siswa-siswa UTM,janganlah korang teperdaya,walaupun orang tuh smart siap pakai uniform apa smua,siasat dulu betul-betul & jangan senang-senang nak kasik orang pinjam duit. Sebab orang yang pinjam tuh takkan senang-senang nak pulang macam kita senang-senang kasik pinjam.Kang kita pulak yang terpaksa meminta-minta macam kita pulak nak pinjam duit dengan dieorang. (Ye ye pengalaman mematangkan kita )
Kalau orang tuh kata nak pinjam duit untuk makan,aa bawak je pegi makan sekali dengan korang,makan sekali depan korang. Tayah bagi duet. Kalau pasal makan ok laa kan, jangan bekira. Memang lah kalau orang tuh cakap dia tak makan la takde duet nak beli makanan,memang kesian.Aku pun akan kesian,dulu ada gak aku kene,cakap nak pinjam duet sebab tak makan bla-bla-bla ,bila kasi duet,tatau la g makan ke apa.So sekarang kalau kata tak makan,ok jom makan skalik dengan aku,nak makan apa pegi je order,asalkan ko makan depan aku. Aku kenyang ko pun kenyang.Tamat disini cerita pasal pinjam-meminjam-pentipu-duet.
Semalam 30.09.09 sebab dah tension tatau nak buat macam mana dengan thesis ni,aku pun ajak la member aku g Kerry's Pelangi usha-usha perfumes,skang ni metrojaya tengah buat sale on certain-certain perfume 50%, yang aku perasan ade banana republic & moschino funny ( beli ni 100ml,dapat free moschino love2 ),lain-lain aku tak perasan sangat.korang pegi la usha yer. Jalan-jalan,dah g test-test mana yang berkenan,last-last aku grab Still-J.Lo ,kali ni aku tak pilih bau yang manis-manis, yang ni bau die more kepada bunga-bungaan. Sapa penah cuba Stella in two-peony, aha bau die lebih kurang la ni dua.Still ni dah lama dah kuar tahun 2003,yang terbaru daripada jlo is Sunkissed Glow yang kaler orange-green,ade kulit cengkerang kat botol dia.
Beli perfume kat metrojaya kerry's pelangi best sebab promoter die baik,sebab suka bagi banyak miniature perfumes. hahahaha. miniature yang dapat smalam antaranya stella-peony & jlo-sunkissed.  Pegi lah try still by jlo & peony-stella in two.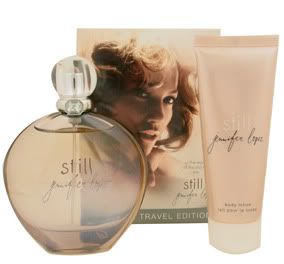 Still perfume by J Lo is as sensual as sable over bare skin, as delicate as pink satin, and as refreshing as a first sip of champagne blending sake, white pepper, mandarin, earl grey, pink freesia, honeysuckle, orange flower, rose, wild jasmine, sandalwood, musks, ambers, and orris.




Sesudah selesai menghabiskan  duet raya, layan tengok movie plak kat Jusco Tebrau City. Oho theraphy la sangat kan? eheh keje smua tak siap yeah tahniah-tahniah, minggu depan semua dah kene submit. Insyallah semua berjalan dengan lancar ( saja nak sedapkan hati sendiri
).ok lah assalamualaikum tata tAkecare.